Comasmo Tek - thread rolling dies - widia blades.
To provide its customers with the best possible service, Comasmo Tek, besides its core business as a manufacturer of machine tools ( Thread rolling machines, Grinding machines, transfer units and automation to measure ), designs and manufactures tools such as thread, knurl-tooth and lap rolling dies to be fitted to its machines, besides very low-roughness and calibrated piece support blades for better piece rolling during machining operations.
ROLLING DIES - NEW OR REGRINDING
We design and manufacture thread, knurl-tooth and worm screw rolling dies in various hardnesses, optimizing the life of your rolling dies.
Whenever possible we recondition your worn rolling dies.
New piece to be rolled, or current roller wear problems? Contact us.
WIDIA BLADES
We manufacture standard or special piece support Widia blades for our thread rolling machines and centerless grinding machines.
Our piece support blades feature extremely low roughness and high precision. Always remember that to achieve good rolling, the piece support blade is crucial.
Thread rolling machines widia blades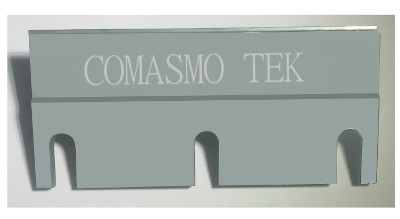 Centerless grinding machines widia blades